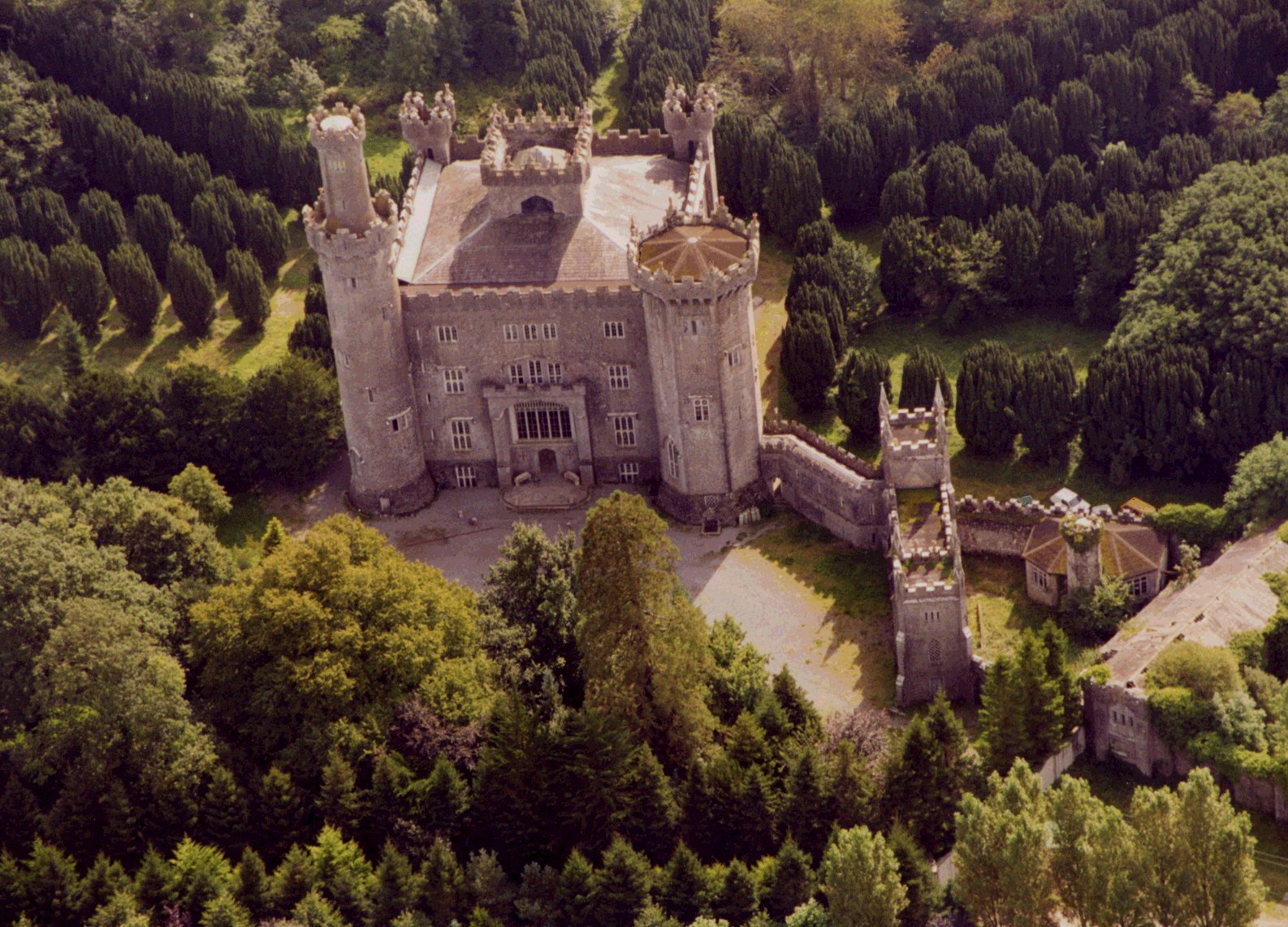 Charleville Castle stands in an ancient Oak-forest site on lands that were once part an estate which began to be assembled following on from a gift, made in 1577 by Queen Elizabeth I, of 1700 acres to the Moore family .
A member of the Moore family was raised to the Earldom of Charleville, but the title lapsed in 1764 due to the lack of heirs in the direct male line. The lands, however, were eventually inherited by the six-month old infant Charles William Bury, born into a Co. Limerick land-owning family who was, importantly, also a grand-nephew of the last Earl.
Tullamoore in these times was a village generally featuring thatched roofs and was largely destroyed by fire in 1785 as a result of an hot air balloon being mismanaged during the 21st birthday celebrations of Charles William Bury. The rebuilding of the Tullamoore on an improved plan and scale, with wider streets and more substantial buildings, was sponsored by the trustees and estate of Charles William Bury.
Charles William Bury was created Baron Tullamoore in 1797, and, as a man of considerable wealth, joined into a fashion of castle building by engaging the services of the renowned architect Francis Johnston in the planning of castle to be built near Tullamoore.
The construction of Charleville Castle commenced in 1798 and over the subsequent twelve or so years some fourteen hundred man-years were involved in the building of what many consider to be the finest neo-Gothic castle in all of Ireland. The wonderful craftsmanship involved being mainly due to the skills of Irish people.
The main towers of the castle are in fact, located over two of those mysterious "ley lines" which dowser's can locate.
Charles William Bury was raised to the restored Earldom of Charleville, as first Earl of the second creation, in 1806.
In 1833 Tullamore, having expanded greatly in population and wealth due to being a terminus of the Grand Canal, was recognised as the county town of the then King's county in preference to Philipstown which had performed that role since the times of Philip and Mary. The Charleville Estate extended to some 24,000 acres at it's zenith but changing fortunes and changing times brought with them new ownership for most of these lands. Amongst the refurbishment's to the Castle which took place in later years were the addition of stencilling, designed by the celebrated William Morris, to the dining room in the 1890's.
The Earldom lapsed again for want of heirs in 1885 with the estate passing to the ownership of a niece - Lady Emily.
On Lady Emily's marriage some years earlier the family took the name Howard-Bury to comply with certain terms in the title deeds of the Estate they seemed due to inherit. Colonel Charles Kenneth Howard-Bury, a son of this marriage, was notable as an explorer and amateur botanist in the Himalayas. Colonel Howard-Bury, who had twice escaped from prisoner of war camps during the recent "Great War", was sufficiently recognised as an explorer, linguist, and diplomatist, to be appointed leader of the first expedition which set out to climb Mount Everest in 1920-1.
Whilst Colonel Howard-Bury was not himself actively involved as a climber George Mallory and other members of the expedition team reached some 23,000 feet without benefit of oxygen cylinders or other more recent sophistications in equipment.
This expedition, which received an enormous public following, effectively provided survey information invaluable to subsequent expeditions and established the North Col route as the route of choice for several early attempts on Everest.
The surname Howard-Bury is reflected in the the latin name of a plant brought back from the Himalaya region by the Colonel.
A room in the Royal Geographical Society in London is named in honour of Colonel Howard-Bury.
Following on from this expedition to the Himalayas the Colonel won a seat in the House of Commons. A later attempt was made at involvement in political life in the Irish Legislature.
Although Colonel Howard-Bury inherited Charleville Castle on the death of his mother in 1931 it was left with only a nominal caretaker staff, some years earlier the Colonel had inherited the smaller and more manageable, but exquisite, Belvedere House near Mullingar - in later years the Colonel also spent most of his time on an estate he had purchased in North Africa.
Upon his the Colonel's death in 1963 the castle became uninhabited and even had it's roof deliberately damaged as a device for the avoidance of paying high local property levies. Given the condition of the roof the authorities agreed to deem the castle as being a ruin.
During the later 1980's the long-term lease of the Castle was taken up by person's who deplored the state into which the Castle was falling and a move was made towards turning the tide of neglect and disrepair. Modern day Irish craftsmen with traditional skills have subsequently been involved in a gradual and loving restoration. Fortunately some of the finest features of the castle


The Gallery

The Entrance Hall, Main Staircase, and Landing

The Library

The Morning Room

The Dining Room


.....did not suffer critical damage in the interim.

Much however remains to be done, and not to the Castle alone, as there are also an estate chapel, a stable block, and once magnificent formal gardens, to be brought into the recovery program. In recent years Charleville Castle has taken on an exciting new role as a focus of educational endeavour. It is presently being utilised as the site of Quest Campus a unique inter-University and transatlantic educational initiative involving the establishment of a Campus which offers decentralised educational opportunities to Irish students and also offers students from the U.S.A., Canada, and elsewhere an opportunity to study in Ireland and to participate in the building up an Atlantic corridor of cultural, and hopefully also, commercial, understanding and progress.



If you would like to see images of

Click Here
These images can be rather slow to load but we hope that they will please you.